Answer
Therapeutic cervical epidural injections treat radicular pain, although some literature has demonstrated reduced axial pain as well. (See the images below.)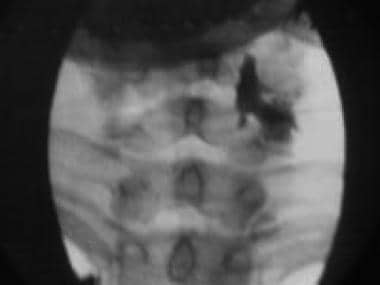 Right C7 cervical transforaminal epidural steroid injection demonstrating epidural and radicular spread of radiologic contrast dye.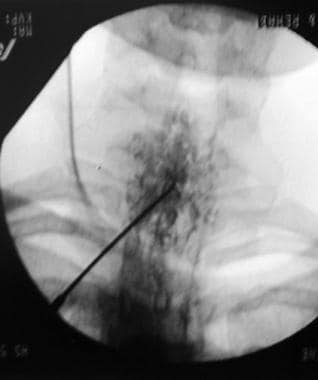 Cervical epidural steroid injection at the C7-T1 interlaminar space.
See the list below:
An anesthetic and corticosteroid mixture may be injected into the epidural space (interlaminar) or along the nerve root (transforaminal) after precise radiologic, contrast-enhanced fluoroscopic localization. [7]

The anesthetic can relieve sympathetically mediated pain.

The corticosteroid provides long-term relief if pain results from an intense inflammatory component.

Such injections provide a pain-free window of opportunity for more aggressive physical therapy.
Diagnostic selective spinal nerve or ventral ramus blocks inject a small anesthetic volume extraforaminally at a single spinal segment level (eg, C5 versus C6); consequently, they are more precise than the "gunshot" interlaminar approach in identifying the symptomatic nerve.
Precise symptomatic nerve identification permits the physician to design a more focused treatment protocol.

Patients record pain changes in a pain diary following the injection, to confirm diagnostic accuracy.

A double injection paradigm previously reported in the literature for facet injections can provide information to the physician for use in determining a diagnosis of radicular pain and to help confirm the symptomatic nerve level. This paradigm identifies patients who have tested false-positive or may have a tendency to respond to a placebo, by determining whether, on separate injection days, they received short-term relief with a short-acting anesthetic (eg, lidocaine) and long-term relief with a long-acting anesthetic (eg, bupivacaine).
---
Did this answer your question?
Additional feedback? (Optional)
Thank you for your feedback!