Answer
CSB-CSA is characterized by classic a crescendo-decrescendo pattern that typically occurs with a periodicity of 45 second or greater cycles (see image below). The ICSD-3 [2] specifies that at least 10 central apneas and hypopneas per hour of sleep should occur, accompanied by arousals and derangement of sleep structure. The arousals occur at the peak of the hyperpnea phase. Patients usually have predisposing factors such as heart failure, stroke, or renal failure, as well as a lower resting PaCO2 than normal. See the following: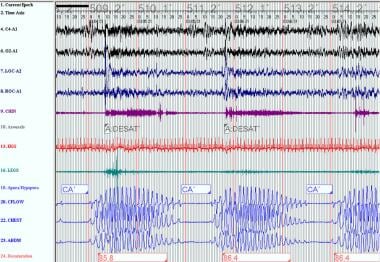 Cheyne Stokes: This polysomnogram represents Cheyne Stokes breathing and occurred subsequent to continuous positive airway pressure titration for OSA in the same patient in the previous media file. Cheyne Stokes breathing has a classic crescendo-decrescendo breathing pattern.
---
Did this answer your question?
Additional feedback? (Optional)
Thank you for your feedback!