Answer
Answer
Ventilatory support can be achieved through a variety of interfaces (mouth piece or nasal, face, or helmet mask), using a variety of ventilatory modes (eg, volume ventilation, pressure support, bilevel positive airway pressure [BiPAP; see the image below], proportional-assist ventilation [PAV], continuous positive airway pressure [CPAP]) with either ventilators dedicated to noninvasive ventilation (NIV) or those capable of providing support through an endotracheal tube or mask. Older models of noninvasive ventilators required oxygen to be bled into the system, but current models incorporate oxygen blenders for precise delivery of the fraction of inspired oxygen (FIO2).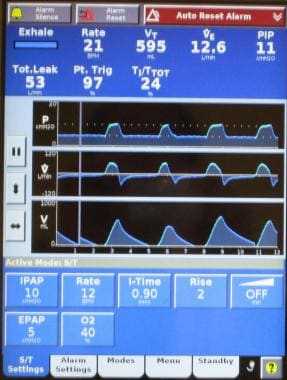 Screen shot of ventilator graphics and information panel of a patient undergoing BiPAP ventilation.
---
Did this answer your question?
Additional feedback? (Optional)
Thank you for your feedback!