Answer
Answer
An interest in the methods of artificial respiration has long persisted, stimulated by attempts at resuscitation of drowning victims. Reports dating from the mid 1700s document a bellows-type device being the most commonly used form of respiratory assistance. Negative-pressure tank-type ventilators came into use in the next century, with a prototype developed by Dalziel in 1832. This spawned a variety of cuirass and tank negative-pressure ventilators, with the general principle of enclosing the thorax, creating negative pressure to passively expand the chest wall and lungs. This led to the Drinker-Shaw iron lung in 1928, which was the first widely used negative-pressure ventilator. In 1931, Emerson modified these large devices, and the Emerson tank ventilator became the standard for ventilatory support. The Emerson tank ventilator was especially crucial in the treatment of poliomyelitis victims.
Rudimentary devices that provided continuous positive airway pressure were described in the 1930s, but the negative-pressure ventilators were the predominant method of ventilatory support until the polio epidemics overwhelmed their capacity in the 1950s. Development of positive-pressure valves delivered through tracheostomy tubes permitted the delivery of intermittent positive pressure during inspiration. This quickly replaced the negative-pressure ventilators, further supported by the development of the cuffed endotracheal tube and bedside ventilators. However, positive-pressure ventilation delivered through either a translaryngeal endotracheal tube or a tracheostomy tube was also associated with a host of complications, specifically injury to the larynx and trachea, as well as other issues involving the timing of extubation, preservation of speech, and the ability to continue swallowing.
In the 1980s, increasing experience with positive-pressure ventilation delivered through a mask in patients with obstructive sleep apnea led to this type of ventilatory support, initially in patients with neuromuscular respiratory failure. Success led to its adoption in other conditions, and noninvasive ventilation became especially promising in the treatment of patients with decompensated chronic obstructive pulmonary disease. In the ensuing 20 years, noninvasive positive-pressure ventilation delivered via a mask has been widely adopted, to the point where it is a first-line therapy in some medical centers. The conditions and patients best suited for noninvasive ventilation are discussed.
Note the images below.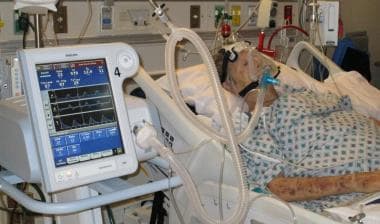 Patient with decompensated congestive heart failure undergoing noninvasive ventilatory support with BiPAP ventilation and an orofacial mask.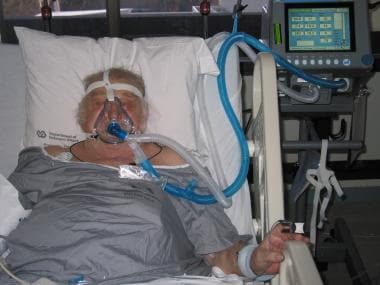 Patient with an exacerbation of chronic obstructive pulmonary disease (COPD) undergoing treatment with noninvasive ventilation using an orofacial mask.
---
Did this answer your question?
Additional feedback? (Optional)
Thank you for your feedback!