Answer
The histological findings of various interstitial pneumonias include an interstitial cellular infiltrate and interstitial fibrosis, eventually leading to an end-stage honeycomb lung. These findings are described in detail in Procedures.
Table 2. Contrasting Clinical, Radiologic, and Histologic Features of Acute Interstitial Pneumonia (AIP), Usual Interstitial Pneumonia (UIP), Nonspecific Interstitial Pneumonia (NSIP), [43] and COP [44] (Open Table in a new window)
Features

AIP

UIP

NSIP

COP

Pathologic

Temporal appearance

Uniform

Heterogeneous

Uniform

Uniform

Interstitial inflammation

Scant

Scant

Usually prominent

Variable

Collagen fibrosis

No

Patchy

Variable, diffuse

No

Fibroblast proliferation

Diffuse, interstitial

Patchy (fibroblast foci)

Occasional

Patchy, airspace

COP areas

Rare

No

Rare

--

Honeycomb changes

Rare

Yes

Rare

No

Hyaline membranes

Yes, often focal

No

No

No
See the images below.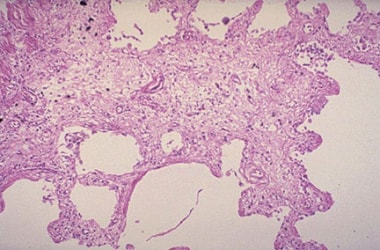 Histopathology of a case of idiopathic pulmonary fibrosis. Alveolitis with fibroblast proliferation and collagen deposition is present.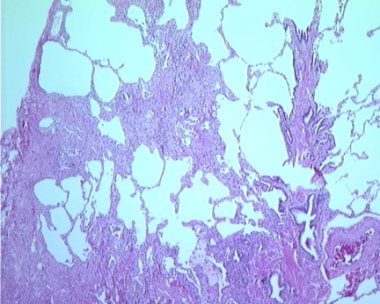 In usual interstitial pneumonitis or idiopathic pulmonary fibrosis, subpleural and paraseptal inflammation is present, with an appearance of temporal heterogeneity. Patchy scarring of the lung parenchyma and normal, or nearly normal, alveoli interspersed between fibrotic areas are the hallmarks of this disease. Additionally, the lung architecture is completely destroyed.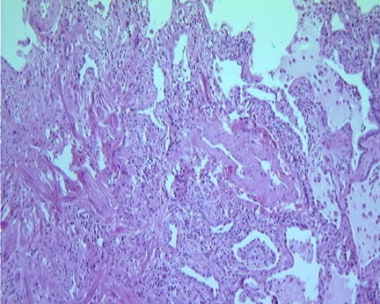 Characteristic features of usual interstitial pneumonitis as described in the image below.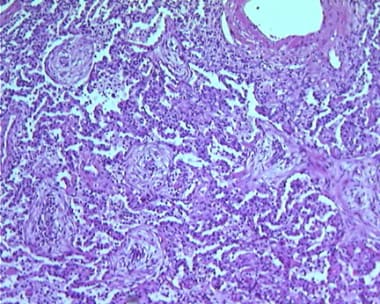 Cryptogenic organizing pneumonia (also called proliferative bronchiolitis) is often patchy and peribronchiolar. The proliferation of granulation tissue within small airways and alveolar ducts is excessive and is associated with chronic inflammation of surrounding alveoli.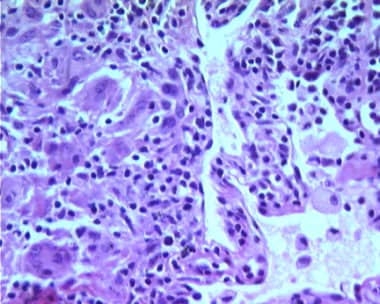 Cryptogenic organizing pneumonia, as described in the image below, showing a close-up view of fibrogranulation tissue in terminal airspaces.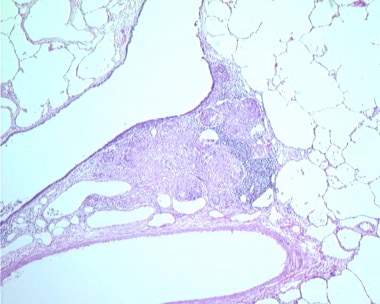 Granulomatous lung diseases are marked by granulomas characterized by the accumulation of T lymphocytes, macrophages, and epithelioid cells. These may progress to pulmonary fibrosis. This low-power image shows well-formed granuloma along the airway.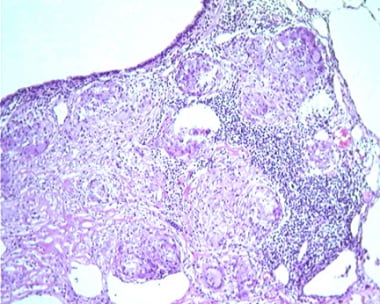 Multiple well-formed noncaseating granulomas secondary to sarcoidosis.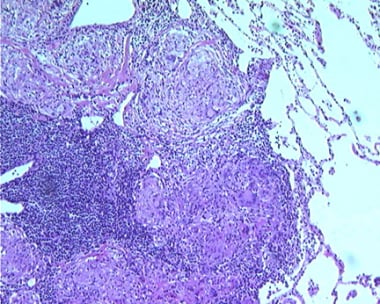 Sarcoid granulomas.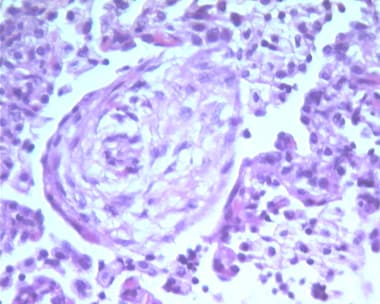 High-power view of sarcoid granuloma shows giant cells.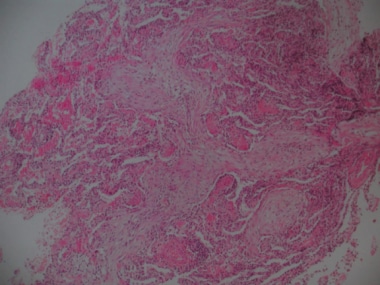 A patient who developed restrictive lung disease had findings of cryptogenic organizing pneumonia on an open lung biopsy specimen.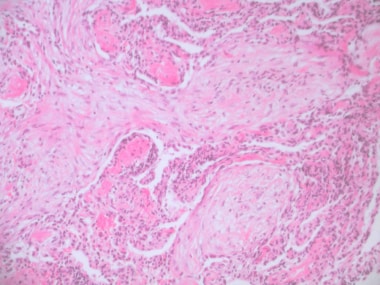 A patient who developed restrictive lung disease had findings of cryptogenic organizing pneumonia on an open lung biopsy specimen. The biopsy sample shows intraluminal buds of granulation tissue.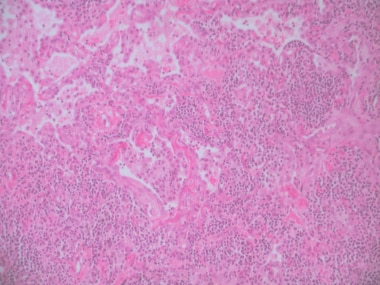 Lymphocytic interstitial pneumonitis, for which the prominent finding is a lymphoid infiltrate that involves both the interstitium and alveolar spaces.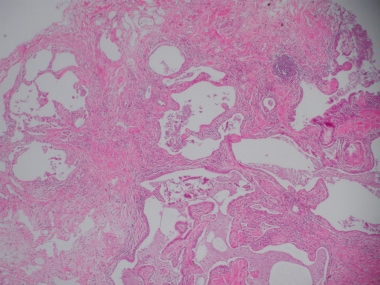 Usual interstitial pneumonitis honeycombing.
---
Did this answer your question?
Additional feedback? (Optional)
Thank you for your feedback!