Answer
Video-assisted thoracoscopic lung biopsy is the preferred method for obtaining lung tissue samples for analysis.
Histologic patterns may be helpful in narrowing the differential diagnosis. [42] Honeycombing is seen in end-stage disease, in which the original disease process often cannot be differentiated. See the image below.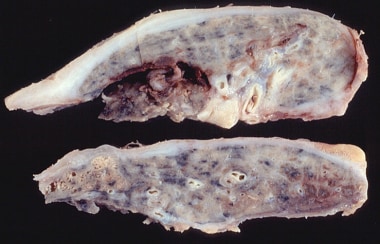 Intrinsic lung disease may progress to extensive fibrosis, regardless of etiology. This is described as honeycomb lung.
The common histologic patterns include interstitial pneumonitis (ie, IPF). Subpleural and paraseptal inflammation is present, with an appearance of temporal heterogeneity. Patchy scarring of the lung parenchyma and normal, or nearly normal, alveoli interspersed between fibrotic areas is the hallmark of this disease. Also, the lung architecture is completely destroyed.
Desquamative interstitial pneumonitis is characterized by diffuse and temporally uniform involvement of the lung parenchyma. The alveoli are filled with macrophages and hyperplastic type II pneumocytes.
COP (also called proliferative bronchiolitis) is often patchy and peribronchiolar. The proliferation of granulation tissue within small airways and alveolar ducts is excessive and is associated with chronic inflammation of surrounding alveoli.
Diffuse alveolar damage is marked by a nonspecific reaction with diffuse temporally uniform involvement and marked thickening of the alveolar septa; inflammatory cell infiltration and type II cell hyperplasia and fibroblast proliferation are present.
For acute interstitial pneumonia, the pathological appearance is identical to that of diffuse alveolar damage.
In eosinophilic pneumonia, eosinophils and macrophages are the predominant alveolar inflammatory cells, and they also extend into the interstitium.
Lymphocytic interstitial pneumonitis marked by a lymphoid infiltrate that involves both the interstitium and alveolar spaces is the prominent finding.
In nonspecific interstitial pneumonia, the lesions are characterized by a relatively uniform appearance consisting of mononuclear interstitial infiltrates associated with varying degrees of interstitial fibrosis.
Granulomatous lung diseases are marked by granulomas characterized by the accumulation of T lymphocytes, macrophages, and epithelioid cells. These may progress to pulmonary fibrosis.
---
Did this answer your question?
Additional feedback? (Optional)
Thank you for your feedback!