Answer
Complete lung function testing includes spirometry, lung volume, diffusing capacity, and arterial blood gas measurements. Pulmonary function test findings do not indicate a specific diagnosis or help distinguish alveolitis from fibrosis. Findings from sequential tests are invaluable for monitoring the course of the disease and assessing the response to therapy.
All disorders are associated with a restrictive defect with a reduction in total lung capacity (TLC), functional reserve capacity (FRC), and residual volume (RV).
While a reduction in the forced expiratory volume in one second (FEV1) and the forced vital capacity (FVC) with a normal or increased FEV1 -to-FVC ratio suggests a restrictive pattern, the diagnosis of restriction is based on a decreased TLC. The assessment of the severity of restriction is also based on TLC.
A normal diffusion capacity of the lungs for carbon dioxide (DLCO2) in the setting of restrictive lung parameters suggests a chest wall or neuromuscular disorder. Conversely, a low DLCO2 in the setting of restrictive lung parameters would support interstitial lung disease or one of the pneumonitides.
An obstructive airflow limitation may be observed in patients with sarcoidosis, LAM, hypersensitivity pneumonitis, or pulmonary fibrosis with concomitant chronic obstructive pulmonary disease (COPD). See the images below.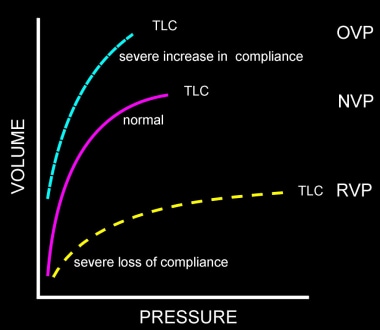 Lung volume is plotted against transpulmonary pressure. Compliance is the change in volume for a given change in pressure. A patient with emphysema has a higher lung compliance compared with a patient with no lung disease, while a patient with restrictive lung disease has a reduction in compliance.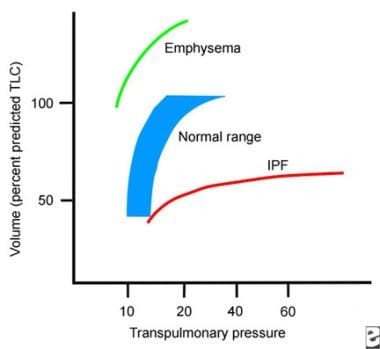 Pressure volume curve comparing lungs with emphysema, lungs with restrictive disease, and normal lungs.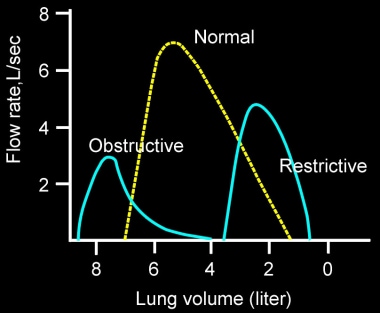 Idealized flow volume curves for normal, obstructive, and restrictive lungs.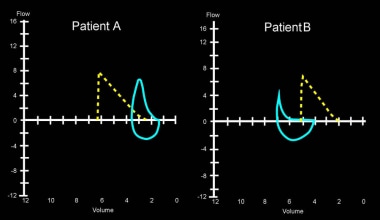 The expiratory flow volume curves of 2 patients are depicted graphically. A is a patient with restrictive lung disease (idiopathic pulmonary fibrosis), low forced vital capacity (FVC), but an increased ratio of forced expiratory volume in 1 second (FEV1) to FVC because of increased elastic recoil. B is a patient with chronic obstructive lung disease whose FEV1/FVC ratio is low but whose lung volumes are increased.
Pulmonary function test results from a patient with restrictive lung disease.
---
Did this answer your question?
Additional feedback? (Optional)
Thank you for your feedback!