Answer
High-resolution CT scanning of the chest can be helpful, but the expense and high dose of radiation makes it inappropriate for every patient. [34] IPF can be diagnosed clinically based on the typical clinical features and CT scan findings without the need for lung biopsy. [36, 37] Bibasilar peripheral lung zone involvement is seen in patients with IPF, asbestosis, connective-tissue disease, or eosinophilic pneumonia.
Central disease along bronchovascular bundles is indicative of sarcoidosis or lymphangitic carcinoma.
Upper-zone predominance is observed in patients with sarcoidosis, eosinophilic granuloma, silicosis, or chronic hypersensitivity pneumonitis. Lower-zone predominance is seen in patients with IPF, asbestosis, or rheumatoid arthritis.
Lower-zone and peripheral infiltration is ordinarily seen in patients with IPF or asbestosis.
The presence of bilateral cysts and nodules, with preservation of lung volumes, may suggest a diagnosis of lymphangioleiomyomatosis (LAM) or pulmonary Langerhans cell histiocytosis.
Bibasilar reticular fibrosis with coexisting retraction bronchiectasis indicates end-stage irreversible disease, and ground-glass attenuation may result from changes in the interstitium, air spaces, or redistribution of capillary blood flow. [38] See the images below.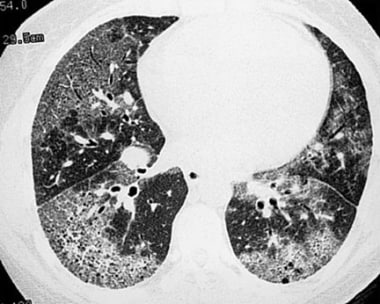 High-resolution CT scan of the same patient in the image below demonstrates peripheral honeycombing and several areas of ground-glass attenuation. Ground-glass opacification may correlate with active alveolitis and a favorable response to therapy.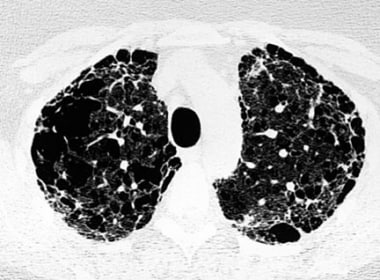 A CT scan image from a 59-year-old woman shows advanced pulmonary fibrosis. Extensive honeycombing and traction bronchiectasis are present.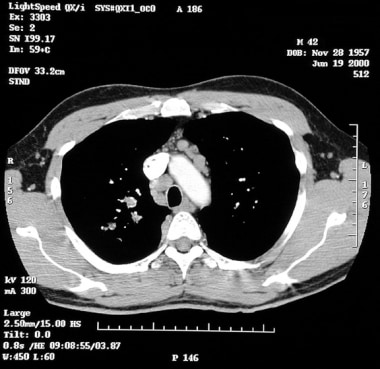 Restrictive lung disease may occur in stage II and stage III sarcoidosis. In this image, mediastinal lymphadenopathy is shown secondary to stage II disease.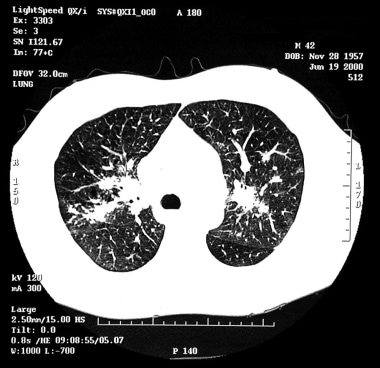 Sarcoidosis on CT scan shows nodules in midlung zones. These nodules are predominantly along the bronchovascular bundles and in a subpleural location.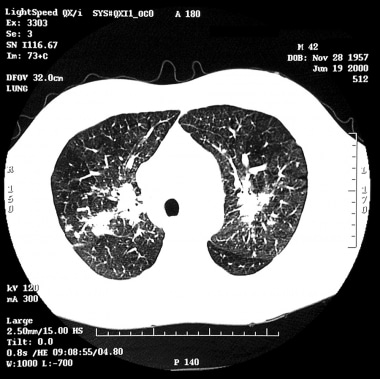 Restrictive lung disease secondary to sarcoidosis.
---
Did this answer your question?
Additional feedback? (Optional)
Thank you for your feedback!