Answer
The diagnosis of an interstitial lung disorder is often initially based on abnormal chest radiograph findings, although they can be normal in as many as 10% of patients. All previous chest films should be reviewed.
The most common radiographic abnormality is a reticular pattern. Nodular, reticulonodular, or mixed patterns, such as alveolar filling (ie, ground-glass appearance), and increased interstitial markings are not unusual; however, these are not predictive of a specific pathological picture. High-resolution CT scanning can be helpful in such cases by providing an accurate assessment and is recommended before lung biopsy. [33, 34, 35]
Air-space opacities suggest pulmonary hemorrhage, eosinophilic pneumonia, and cryptogenic organizing pneumonia (COP).
Upper-zone predominance on chest radiographs is observed in patients with sarcoidosis, pulmonary Langerhans cell histiocytosis, chronic hypersensitivity pneumonitis, pneumoconiosis, or ankylosing spondylitis. Lower-zone predominance is seen in patients with idiopathic pulmonary fibrosis (IPF), asbestosis, or collagen-vascular diseases.
The finding of honeycombing correlates with advanced fibrosis and indicates a poor prognosis. Bilateral hilar lymphadenopathy, with or without mediastinal adenopathy, suggests sarcoidosis. See the images below.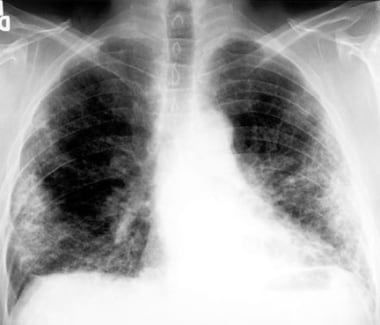 Chest radiograph of a 67-year-old man diagnosed with idiopathic pulmonary fibrosis, based on open lung biopsy findings. Extensive bilateral reticulonodular opacities are seen in both lower lobes.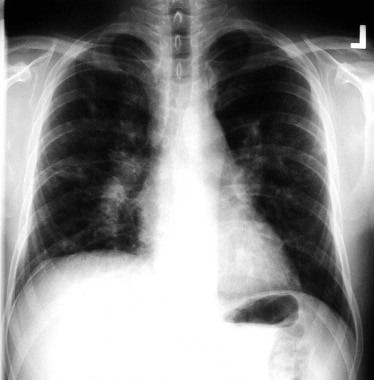 A chest radiograph of stage III sarcoidosis. This stage refers to pulmonary infiltrates without evidence of mediastinal lymphadenopathy.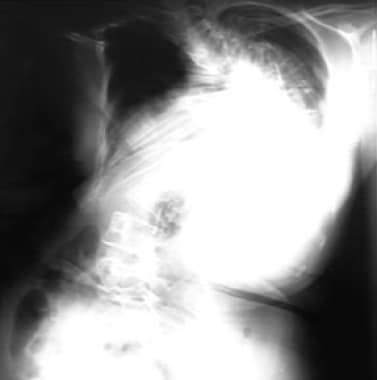 Chest radiograph from a 39-year-old woman with severe kyphoscoliosis who developed hypercapnic respiratory failure. Spirometry findings showed a severe restrictive lung disease, with a forced expiratory volume in one second of 0.4 L/s and a forced vital capacity of 0.5 L.
---
Did this answer your question?
Additional feedback? (Optional)
Thank you for your feedback!