Answer
The physical examination in patients with intrinsic lung disorders may yield distinguishing physical findings.
Velcro crackles are common in most patients with interstitial lung disorders.
Inspiratory squeaks or scattered, late, inspiratory high-pitched rhonchi are frequently heard in patients with bronchiolitis.
Cyanosis at rest is uncommon in persons with interstitial lung diseases, and this is usually a late manifestation of advanced disease.
Digital clubbing is common in those with IPF and is rare in others (eg, those with sarcoidosis or hypersensitivity pneumonitis). See the image below.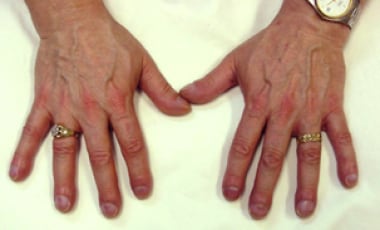 Approximately half of the patients with idiopathic pulmonary fibrosis develop clubbing. Clubbing is commonly seen in patients with asbestosis.
Extrapulmonary findings, including erythema nodosum, suggest sarcoidosis. A maculopapular rash can occur in those with connective-tissue diseases or drug-induced lung diseases. Raynaud phenomenon may be present in patients with connective-tissue diseases, and telangiectasia is present in those with scleroderma. Peripheral lymphadenopathy, salivary gland enlargement, and hepatosplenomegaly are signs of systemic sarcoidosis. Uveitis may be observed in those with sarcoidosis and ankylosing spondylitis. Other signs of systemic vasculitis may include palpable purpura, signifying a leukocytoclastic vasculitis. In addition, renal involvement may be heralded by hematuria and anasarca.
Cor pulmonale occurs in the late stages of pulmonary fibrosis or advanced kyphoscoliosis. Pulmonary hypertension and cor pulmonale become evident when signs include a loud P2, right-sided precordial lift, jugulovenous distension with a prominent A wave, and right-sided gallop.
---
Did this answer your question?
Additional feedback? (Optional)
Thank you for your feedback!