Answer
The mortality and morbidity from various causes of restrictive lung disease is dependent on the underlying cause of the disease process.
The median survival time for patients with IPF is less than 3 years after diagnosis (noted 3-6 months earlier). Factors that predict poor outcome include older age, male sex, severe dyspnea, history of cigarette smoking, severe loss of lung function, appearance and severity of fibrosis on radiologic studies, lack of response to therapy, and prominent fibroblastic foci on histopathologic evaluation. [13]
See the image below.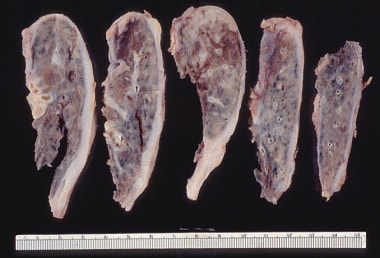 Gross pathology of small and firm lungs due to restrictive lung disease from advanced pulmonary fibrosis.
---
Did this answer your question?
Additional feedback? (Optional)
Thank you for your feedback!