Answer
Echocardiography is often the first clue that PH exists, and it is often recommended as a screen for APAH for high risk populations (such as connective tissue disease patients). Echocardiography is extremely useful for assessing right and left ventricular function, estimating pulmonary systolic arterial pressure, and excluding congenital anomalies and valvular disease. This is particularly important in the initial workup of patients with PH because the findings can help steer the clinician towards the likely type of PH (ie, Group 1, Group 2, etc).
Findings on echo in IPAH patients include flattening of the intraventricular septum (D-shaped left ventricle) during systole and diastole, right ventricular enlargement and hypertrophy, and reduced right ventricular function. Tricuspid regurgitation (TR) is usually present, and TR waveform is used to estimate right ventricular systolic pressure. Pulmonic insufficiency may be present. On M-Mode echocardiography, early mid-systolic notching of the pulmonic valve is associated with poorer right ventricular function and worse hemodynamics in PAH patients, including IPAH. Finally, the presence of a pericardial effusion denotes a poor prognosis in PAH patients, including IPAH.
In approximately a third of patients with PAH, echocardiography demonstrates right-to-left shunting across a patent foramen ovale. (See the image below.)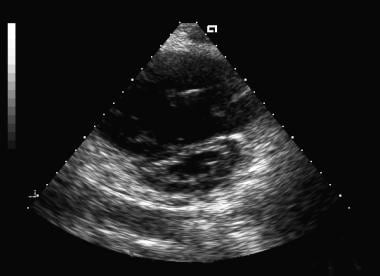 Two-dimensional short-axis echocardiogram image. Note the flattened interventricular septum due to right ventricular overload.
---
Did this answer your question?
Additional feedback? (Optional)
Thank you for your feedback!