Answer
Diffuse parenchymal lung diseases (DPLDs) comprise a heterogenous group of disorders. Clinical, physiologic, radiographic, and pathologic presentations of patients with these disorders are varied (an example is shown in the image below). However, a number of common features justify their inclusion in a single disease category.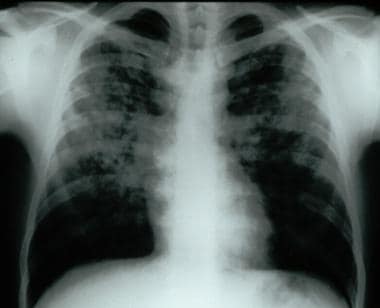 Frontal chest radiograph demonstrating bilateral reticular and nodular interstitial infiltrates with upper zone predominance.
DPLD may be idiopathic, a classic illustration of which is idiopathic interstitial fibrosis (IPF), which is discussed in another article (see Idiopathic Pulmonary Fibrosis). The underlying histopathology of IPF is usual interstitial pneumonitis (UIP). Other major histopathologic forms of idiopathic interstitial pneumonias include the following: desquamative interstitial pneumonia (DIP), respiratory bronchiolitis interstitial lung disease (RBILD), acute interstitial pneumonitis (AIP), also known as Hamman-Rich syndrome, nonspecific interstitial pneumonia (NSIP), cryptogenic organizing pneumonia (COP) (see Imaging in Bronchiolitis Obliterans Organizing Pneumonia), and lymphocytic interstitial pneumonia (LIP) (see Lymphocytic Interstitial Pneumonia).
Some forms of DPLD are related to occupational, environmental, drug, and/or radiation exposure, as well as systemic illness such as collagen-vascular disease (see Interstitial Lung Disease Associated With Collagen-Vascular Disease). Another category of DPLDs includes granulomatous forms, such as sarcoidosis (see Sarcoidosis), and hypersensitivity pneumonia (HSP) (see Hypersensitivity Pneumonitis). Finally, a number of very rare forms of DPLDs exist, including pulmonary Langerhans cell histiocytosis (PLCH) (see Eosinophilic Granuloma (Histiocytosis X)), tuberous sclerosis, lymphangioleiomyomatosis (LAM) (see Lymphangioleiomyomatosis), and Hermansky-Pudlak syndrome.
Some of these disorders, for example, RBILD, DIP, and PLCH, are clearly associated with smoking. Some forms of DPLD, as noted above, may also be related to occupational, environmental, drug, radiation exposure, or systemic illness such as collagen-vascular disease. This article presents a broad overview, with an emphasis on those etiologies that result in pulmonary fibrosis not discussed elsewhere in this series.
---
Did this answer your question?
Additional feedback? (Optional)
Thank you for your feedback!