Answer
V/Q scanning of the lungs is an important modality for establishing the diagnosis of pulmonary embolism. V/Q scanning may be used when CT scanning is not available or if the patient has a contraindication to CT scanning or intravenous contrast material. Children generally have a more homogenous perfusion scan; thus, deficits in perfusion are more likely to represent real or significant pulmonary embolism than they are in adults.
The PIOPED II trial provided high-, intermediate-, and low-probability criteria for V/Q scanning diagnosis of pulmonary embolism (see the images of high-probability scans below).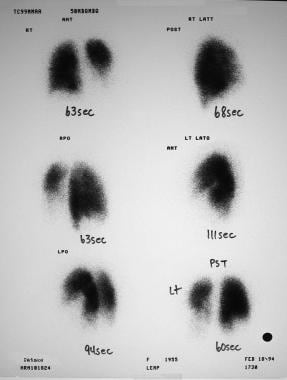 High-probability perfusion lung scan shows segmental perfusion defects in the right upper lobe and subsegmental perfusion defects in right lower lobe, left upper lobe, and left lower lobe.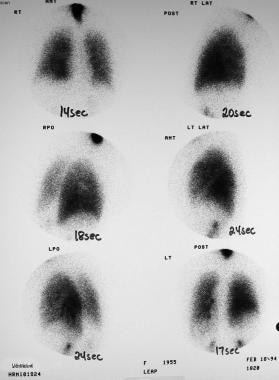 A normal ventilation scan will make the noted defects in the previous image a mismatch and, hence, a high-probability ventilation-perfusion scan.
Anterior views of perfusion and ventilation scans are shown here. A perfusion defect is present in the left lower lobe, but perfusion to this lobe is intact, making this a high-probability scan.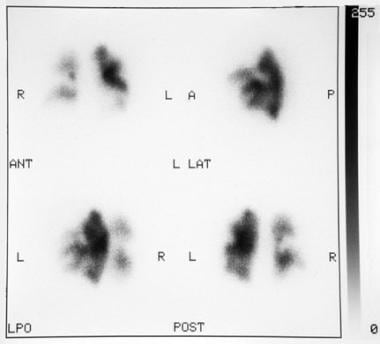 This perfusion scan shows bilateral perfusion defects. The ventilation scan findings were normal; therefore, these are mismatches, and this is a high-probability scan.
---
Did this answer your question?
Additional feedback? (Optional)
Thank you for your feedback!