Answer
The ACR recommends chest radiography (see the images below) as the most appropriate study for ruling out other causes of chest pain in patients with suspected pulmonary embolism. [69] Initially, the chest radiographic findings are normal in most cases of pulmonary embolism. However, in later stages, radiographic signs may include a Westermark sign (dilatation of pulmonary vessels and a sharp cutoff), atelectasis, a small pleural effusion, and an elevated diaphragm. Generally, chest radiographs cannot be used to conclusively prove or exclude pulmonary embolism; however, radiography and electrocardiography may be useful for establishing alternative diagnoses. (See Electrocardiography.)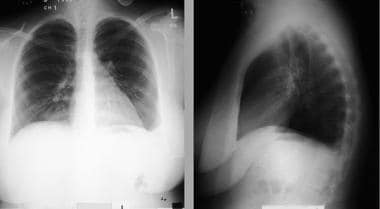 Posteroanterior and lateral chest radiograph findings are normal, which is the usual finding in patients with pulmonary embolism.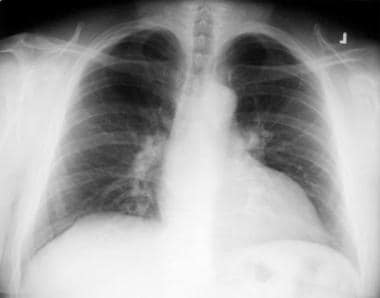 A chest radiograph with normal findings in a 64-year-old woman who presented with worsening breathlessness.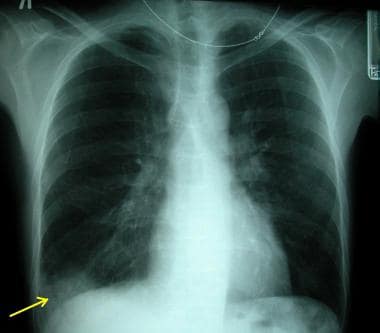 A posteroanterior chest radiograph showing a peripheral wedge-shaped infiltrate caused by pulmonary infarction secondary to pulmonary embolism. Hampton hump is a rare and nonspecific finding. Courtesy of Justin Wong, MD.
---
Did this answer your question?
Additional feedback? (Optional)
Thank you for your feedback!