Answer
Acute respiratory consequences of PE include the following:
Increased alveolar dead space
Additional consequences that may occur include regional loss of surfactant and pulmonary infarction (see the image below). Arterial hypoxemia is a frequent, but not universal, finding in patients with acute embolism. The mechanisms of hypoxemia include ventilation-perfusion mismatch, intrapulmonary shunts, reduced cardiac output, and intracardiac shunt via a patent foramen ovale. Pulmonary infarction is an uncommon consequence because of the bronchial arterial collateral circulation.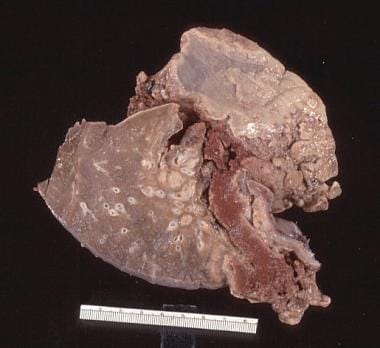 Lung infarction secondary to pulmonary embolism occurs rarely.
A segmental ventilation perfusion mismatch is evident in a left anterior oblique projection.
---
Did this answer your question?
Additional feedback? (Optional)
Thank you for your feedback!