Answer
Knowledge of bronchovascular anatomy (seen in the image below) is the key to the accurate interpretation of CT scans obtained for the evaluation of pulmonary embolism. A systematic approach in identifying all vessels is important. The bronchovascular anatomy has been described on the basis of the segmental anatomy of lungs. The segmental arteries are seen near the accompanying branches of the bronchial tree and are situated either medially (in the upper lobes) or laterally (in the lower lobes, lingula, and right middle lobe).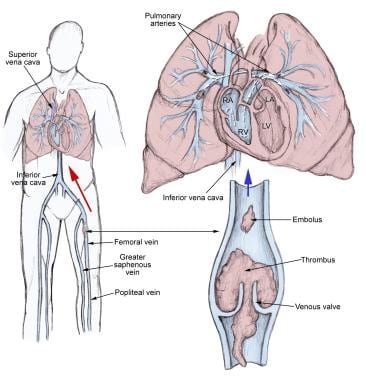 The pathophysiology of pulmonary embolism. Although pulmonary embolism can arise from anywhere in the body, most commonly it arises from the calf veins. The venous thrombi predominately originate in venous valve pockets (inset) and at other sites of presumed venous stasis. To reach the lungs, thromboemboli travel through the right side of the heart. RA, right atrium; RV, right ventricle; LA, left atrium; LV, left ventricle.
Pulmonary thromboembolism is not a disease in and of itself. Rather, it is a complication of underlying venous thrombosis. Under normal conditions, microthrombi (tiny aggregates of red cells, platelets, and fibrin) are formed and lysed continually within the venous circulatory system. This dynamic equilibrium ensures local hemostasis in response to injury without permitting uncontrolled propagation of clot. (See Etiology of Pulmonary Embolism.)
---
Did this answer your question?
Additional feedback? (Optional)
Thank you for your feedback!