Answer
The variability of presentation sets the patient and clinician up for potentially missing the diagnosis. The challenge is that the "classic" presentation with abrupt onset of pleuritic chest pain, shortness of breath, and hypoxia is rarely seen. Studies of patients who died unexpectedly of pulmonary embolism revealed that the patients had complained of nagging symptoms, often for weeks, before dying. Forty percent of these patients had been seen by a physician in the weeks prior to their death. [7] (See the images below.)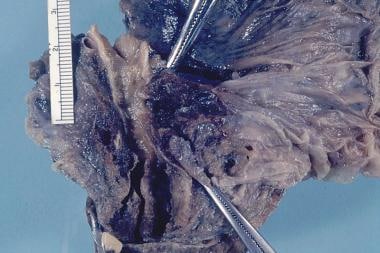 A large pulmonary artery thrombus in a hospitalized patient who died suddenly.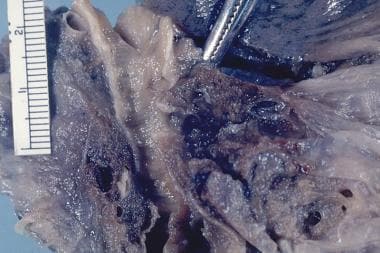 Pulmonary embolism was identified as the cause of death in a patient who developed shortness of breath while hospitalized for hip joint surgery. This is a close-up view.
---
Did this answer your question?
Additional feedback? (Optional)
Thank you for your feedback!