Answer
When a pulmonary embolism is identified, it is characterized as acute or chronic. In terms of pathologic diagnosis, an embolus is acute if it is situated centrally within the vascular lumen or if it occludes a vessel (vessel cutoff sign) (see the first image below). Acute pulmonary embolism commonly causes distention of the involved vessel. An embolus is chronic if it is eccentric and contiguous with the vessel wall (see the second image below), it reduces the arterial diameter by more than 50%, evidence of recanalization within the thrombus is present, and an arterial web is present.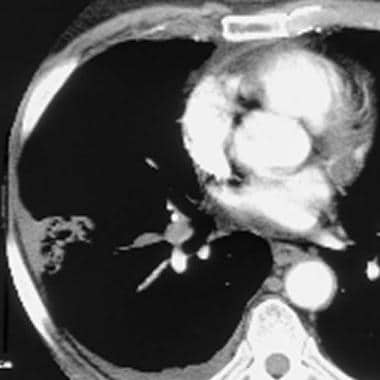 Computed tomography angiogram in a 53-year-old man with acute pulmonary embolism. This image shows an intraluminal filling defect that occludes the anterior basal segmental artery of the right lower lobe. Also present is an infarction of the corresponding lung, which is indicated by a triangular, pleura-based consolidation (Hampton hump).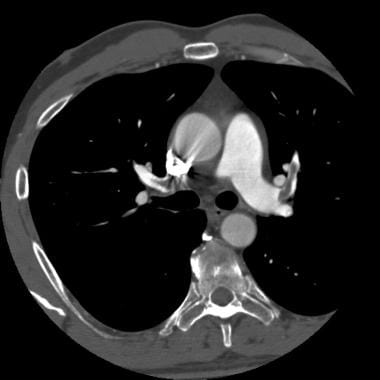 Computed tomography angiography in a young man who experienced acute chest pain and shortness of breath after a transcontinental flight. This image demonstrates a clot in the anterior segmental artery in the left upper lung (LA2) and a clot in the anterior segmental artery in the right upper lung (RA2).
---
Did this answer your question?
Additional feedback? (Optional)
Thank you for your feedback!