Answer
Pulmonary embolism (PE) is when a blood clot (thrombus) becomes lodged in an artery in the lung and blocks blood flow to the lung. Pulmonary embolism usually arises from a thrombus that originates in the deep venous system of the lower extremities; however, it rarely also originates in the pelvic, renal, upper extremity veins, or the right heart chambers (see the image below). After traveling to the lung, large thrombi can lodge at the bifurcation of the main pulmonary artery or the lobar branches and cause hemodynamic compromise.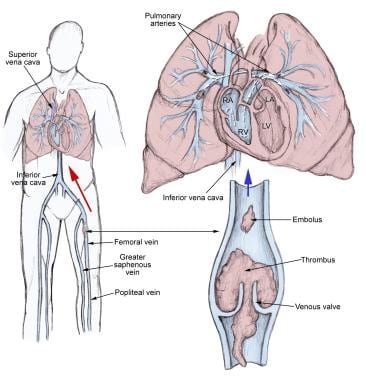 The pathophysiology of pulmonary embolism. Although pulmonary embolism can arise from anywhere in the body, most commonly it arises from the calf veins. The venous thrombi predominately originate in venous valve pockets (inset) and at other sites of presumed venous stasis. To reach the lungs, thromboemboli travel through the right side of the heart. RA, right atrium; RV, right ventricle; LA, left atrium; LV, left ventricle.
---
Did this answer your question?
Additional feedback? (Optional)
Thank you for your feedback!