Answer
Depending on the virulence of the organism as well as the age and comorbidities of the patient, viral pneumonia can vary from a mild and self-limited illness to a life-threatening disease. Especially in immunocompromised patients, viral pneumonia may result in respiratory failure, severe hypoxemia, and other pulmonary pathology. (See Prognosis.)
The four most frequent etiologies of viral pneumonia in children and immunocompetent adults are influenza virus, respiratory syncytial virus (RSV), adenovirus, and parainfluenza virus (PIV). Influenza virus types A and B are responsible for more than half of all community-acquired viral pneumonia cases, particularly during influenza outbreaks. (See Etiology.)
The image below depicts right-middle-lobe infiltrate in a two-month-old boy with pneumonia due to RSV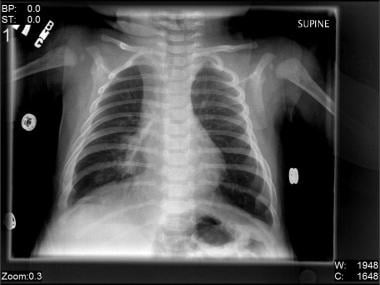 Right-middle-lobe infiltrate in a 2-month-old boy with pneumonia due to respiratory syncytial virus (RSV).
The relative importance of additional viruses (eg, parainfluenza, rhinoviruses, coronaviruses, human metapneumovirus) will likely increase as diagnostic tests such as reverse-transcription polymerase chain reaction (PCR), become more widely available. [9] (See Workup.)
Outbreaks of adenovirus of various serotypes frequently occur in military recruits. Adenovirus type 14 (Ad 14), a new variant in the United States, has been documented to cause severe and sometimes fatal acute respiratory illness in patients of all ages but especially the young, the old, patients with underlying comorbid conditions, and those who are immunocompromised.
---
Did this answer your question?
Additional feedback? (Optional)
Thank you for your feedback!