Answer
Bacterial pneumonia (see the image below) is caused by a pathogenic infection of the lungs and may present as a primary disease process or as the final, fatal disorder primarily in an individual who is already debilitated. The most consistent presenting symptom of bacterial pneumonia is cough productive of sputum. Antibiotic treatment is the mainstay of drug therapy for bacterial pneumonia.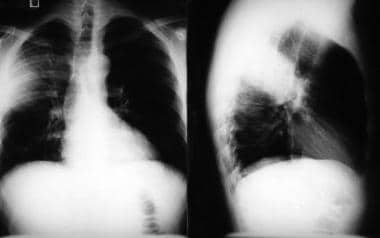 Bacterial pneumonia. Radiographic images in a patient with right upper lobe pneumonia. Note the increased anteroposterior chest diameter, which is suggestive of chronic obstructive pulmonary disease (COPD).
---
Did this answer your question?
Additional feedback? (Optional)
Thank you for your feedback!