Answer
Nonspecific ground-glass opacities or diffusely increased radiodensities are present in the acute phase of disease. [53] Opacities may be either central or peripheral, but tend to involve the lower lobes preferentially to upper lobes. This may be suggestive of correlation with inhaled antigen load. Note the image below: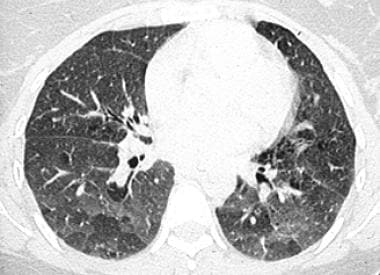 High-resolution CT scan of lungs shows ground-glass opacification in the acute phase of hypersensitivity pneumonitis.
In subacute disease, diffuse micronodules, ground-glass attenuation, focal air trapping, mosaic perfusion, occasional thin-walled cyst, and mild fibrotic changes are observed.
In chronic hypersensitivity pneumonitis, several patterns may be observed, including multiple centrilobular nodules with some ground-glass attenuation, radiolucency or air trapping, extensive fibrosis, traction bronchiectasis, and honeycombing. [54] Note the images below: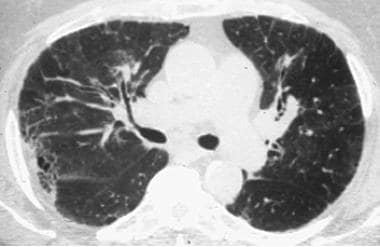 The chronic phase of hypersensitivity pneumonitis shows honeycombing in the right upper lung and traction bronchiectasis.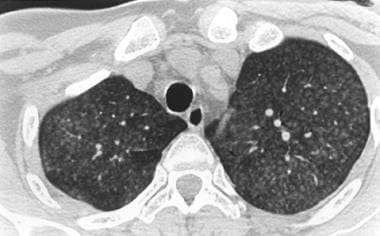 High-resolution chest CT scan of a patient with subacute hypersensitivity pneumonitis demonstrates centrilobular nodules. These nodules are unlike those of sarcoidosis, in which the nodules are subpleural and along bronchovascular bundles.
It may be difficult to distinguish imaging features of hypersensitivity pneumonitis from those of NSIP and IPF; thus, these should be considered as well. Features that may favor hypersensitivity pneumonitis include mosaic perfusion, upper- or mid-zone predominance, centrilobar nodules and air-trapping.
---
Did this answer your question?
Additional feedback? (Optional)
Thank you for your feedback!