Answer
No findings on chest radiograph that are typical of hypersensitivity pneumonitis (HP). That said, pleural effusions, pleural thickening, or significant hilar adenopathy are rare in hypersensitivity pneumonitis and may suggest alternative differential diagnoses.
In acute hypersensitivity pneumonitis, a poorly defined micronodular or diffuse interstitial pattern is typical. Lower to middle lung zone predominance is variably reported and may be better appreciated in high-resolution CT scans. [51] Findings are normal in approximately 10% of patients. Radiograph findings may also revert back to normal following resolution of the acute episode.
Subacute hypersensitivity pneumonitis chest radiographs may be similar to acute hypersensitivity pneumonitis with a predominantly reticulonodular pattern. [52] Note the image below: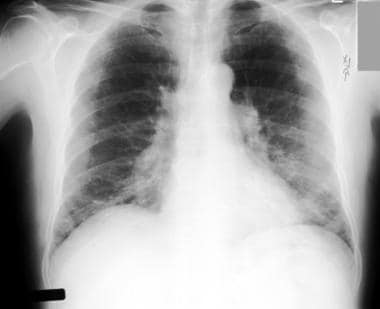 A 60-year-old dairy farmer had an 8-year history of intermittent dyspnea. Chest radiograph shows bilateral reticulonodular interstitial infiltration secondary to subacute hypersensitivity pneumonitis.
In chronic hypersensitivity pneumonitis, progressive fibrotic changes with loss of lung volume and coarse linear opacities are common. Features of emphysema are found on significant chest films and CT scans. Note the image below: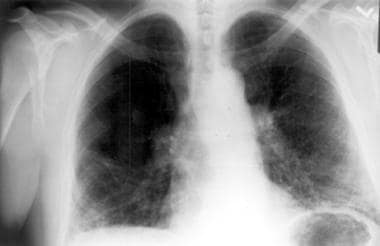 Chest radiograph of a patient with chronic hypersensitivity pneumonitis from pigeon breeder's disease. Bilateral reticulonodular densities are present.
---
Did this answer your question?
Additional feedback? (Optional)
Thank you for your feedback!