Answer
The earliest lesions of pulmonary Langerhans cell histiocytosis X (PLCH) consist of Langerhans cells grouped around the small airways. These inflammatory lesions expand to form granulomatous nodules composed of Langerhans cells as well as eosinophils, macrophages, lymphocytes, plasma cells, and fibroblasts.
In addition to looking for the typical morphologic features of Langerhans cells, immunostaining for S-100 and CD1a may also be useful. Electron microscopy helps in identifying Langerhans cells by demonstrating the presence of diagnostic pentilaminar cytoplasmic inclusion bodies, or Birbeck granules (x-bodies).
Of note, eosinophils may not always be present. Therefore, the name eosinophilic granuloma, despite being a commonly accepted term, is a misnomer.
Granulomas are centered on distal bronchioles. Evidence of pulmonary vascular involvement and respiratory bronchiolitis are often present, as well as infiltration and destruction of airway walls. As the disease progresses, cavitation occurs as a result of this destruction. The nodule fibroses, eventually forming a stellate scar.
Hematoxylin-eosin staining is demonstrated in the image below: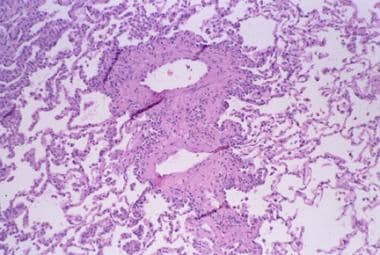 Low-power photomicrograph of a lung-tissue specimen that demonstrates the classic stellate nodule of pulmonary histiocytosis X (hematoxylin-eosin stain).
---
Did this answer your question?
Additional feedback? (Optional)
Thank you for your feedback!