Answer
This study reveals elevated hemidiaphragms, small lung volumes, and atelectasis.
In contrast to bilateral disease, physicians can usually diagnose unilateral paralysis with only radiographic studies. [13] (see the image below).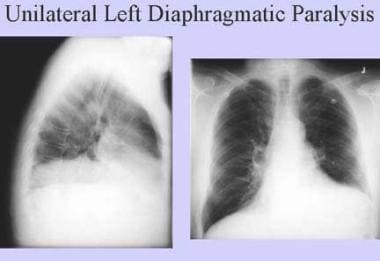 Acute unilateral left diaphragmatic paralysis in a patient with moderately severe chronic obstructive pulmonary disease. The patient previously was asymptomatic but developed class III dyspnea following the new event.
Bilateral diaphragmatic paralysis can be subtler to recognize with radiographic studies alone. See image below.

Radiograph of a patient with bilateral diaphragmatic paralysis displaying low lung volumes.
---
Did this answer your question?
Additional feedback? (Optional)
Thank you for your feedback!