Answer
In right lower lobe (RLL) collapse (see images below), the collapsed RLL shifts posteriorly and inferiorly. A triangular opacity obscuring the RLL pulmonary artery may be observed. The major fissure, which normally is not visible, is seen with RLL collapse. The superior mediastinal structure shifts to the right, causing a superior triangle sign. Laterally, the collapsed RLL blurs the posterior third of the right hemidiaphragm. Upon CT scanning, a paraspinal masslike appearance is observed. Concomitant RML and RLL atelectasis may appear as an elevated right hemidiaphragm or a subpulmonic effusion. An attempt to identify the fissures usually leads to the accurate diagnosis.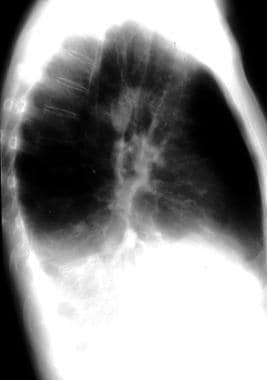 Atelectasis. Right lower lobe collapse.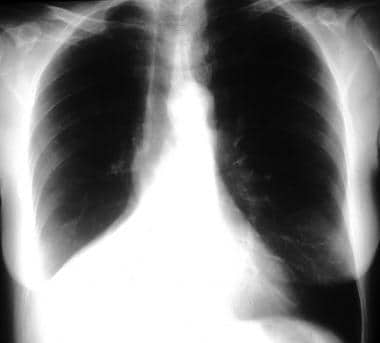 Atelectasis. Both right lower lobe and right middle lobe collapse. The left lung is hyperexpanded.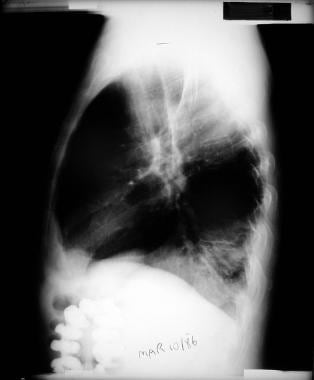 Atelectasis. The right lower lobe collapses inferiorly and posteriorly.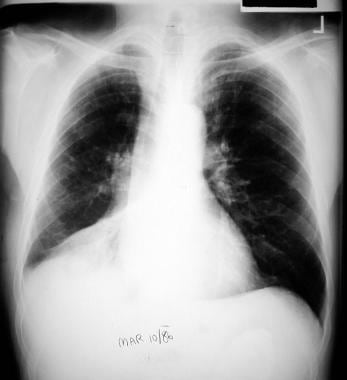 Atelectasis. Right lower lobe collapse without middle lobe collapse, the right major fissure is shifted downward and is now visible.
---
Did this answer your question?
Additional feedback? (Optional)
Thank you for your feedback!