Answer
Answer
Radiographic evidence of aspiration pneumonia depends on the position of the patient when the aspiration occurred. [14] The right lower lung lobe is the most common site of infiltrate formation due to the larger caliber and more vertical orientation of the right mainstem bronchus. [14] Patients who aspirate while standing can have bilateral lower lung lobe infiltrates. Patients lying in the left lateral decubitus position are more likely to have left-sided infiltrates (see the following image). The right upper lobe may be involved particularly in alcoholics who aspirate while in the prone position.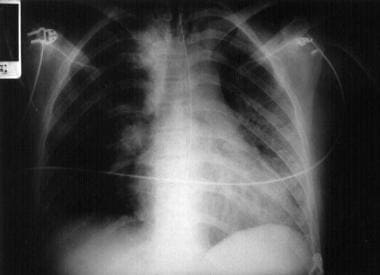 Chest radiograph of a patient with aspiration pneumonia of the left lung after a benzodiazepine overdose. The patient was probably positioned to the left at the moment of aspiration
The presence of pleural effusion may indicate the need to perform thoracentesis to evaluate for possible empyema.
---
Did this answer your question?
Additional feedback? (Optional)
Thank you for your feedback!