Answer
High-resolution CT (HRCT) scanning of the chest demonstrates widespread abnormally hypoattenuating areas resulting from a lack of lung tissue. As in smoking-related emphysema, the appearance has been described as a simplification of lung architecture. As tissue is lost, pulmonary vessels appear smaller, fewer in number, and spread farther apart.
Mild forms of alpha1-antitrypsin disease can be missed on HRCT scanning. However, when the disease is moderate, discerning the panlobular nature of the process and the characteristic lower zone predominance is possible.
Severe forms may be indistinguishable from severe centrilobular emphysema.
See the image below.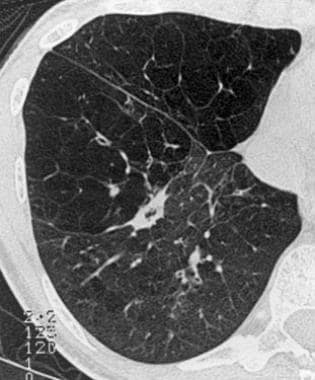 CT scan of the right middle and right lower lobes in a 38-year-old patient with alpha1-antitrypsin deficiency (AATD). Entire middle lobe and much of the lower lobe are emphysematous; normal lung structures have been replaced by abnormal airspaces. Only the posterior portions of the right lower lobe maintain a normal architecture.
CT of abdomen may show hepatomegaly or changes associated with cirrhosis or hepatocellular carcinoma. [15]
---
Did this answer your question?
Additional feedback? (Optional)
Thank you for your feedback!