Answer
Alpha1-antitrypsin deficiency (AATD) emphysema produces a hyperlucent appearance because healthy tissue has been destroyed.
The process is not uniform, with certain areas being more affected than others.
Affected regions also are described as oligemic because they lack the normal rich pattern of branching blood vessels.
An unusual characteristic in alpha1-antitrypsin deficiency is found in about two thirds of PiZZ patients; the emphysema has a striking basilar distribution. In contrast, cigarette smoking is associated with more severe apical disease.
See the image below.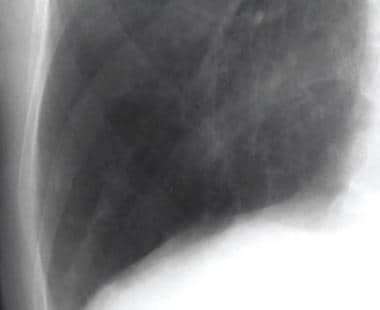 Close-up chest radiograph of the right lower zone of a 39-year-old woman with alpha1-antitrypsin deficiency (AATD). Normal lung markings are absent in the costophrenic angle. Some lung markings are present in the pericardiac region, but even these are diminished.
---
Did this answer your question?
Additional feedback? (Optional)
Thank you for your feedback!