Answer
Serum alpha1-antitrypsin levels are used to identify disease and determine levels. The study is most commonly performed by nephelometry.
Testing is readily available in most clinical laboratories and is inexpensive and underutilized. The AAT Deficiency Task Force of the American Thoracic Society (ATS) and European Respiratory Society (ERS) had published standards guidelines aimed at improving clinical recognition of AATD and avoiding underrecognition or misdiagnosis.
Clinical features that suggest the possibility of AATD and the need for serum testing include emphysema at an early age (age 45 y or younger), emphysema in a patient with the absence of a recognized risk factor like smoking or occupational dust exposure, emphysema of the lower lungs, asthma with persistent airflow obstruction after treatment, unexplained liver disease, necrotizing panniculitis, antiproteinase 3-positive vasculitis (antineutrophil cytoplasmic antibody [C-ANCA]–positive vasculitis), bronchiectasis without a clear etiology, and a family history of emphysema, bronchiectasis, liver disease, or panniculitis. [17]
Serum testing is used for diagnostic testing and predispositional testing as in those patients with family histories compatible with alpha1-antitrypsin deficiency or with siblings with known alpha1-antitrypsin deficiency. However, guidelines from the ATS/ERS AAT Deficiency Task Force do not recommend predispositional fetal testing or population screening unless the prevalence of AATD is high (>1 case per 1500 population), smoking is prevalent, and adequate counseling services are available.
Most hospital laboratories report serum alpha1-antitrypsin levels in milligrams per decimeter, with a reference range of approximately 100-300 mg/dL. Levels less than 80 mg/dL suggest a significant risk for lung disease. Reference laboratories usually report the serum levels in micromolar concentration, with a reference range of 20-60 µmol/L and a threshold level for emphysema at 11 µmol/L.
Serum alpha1-antitrypsin concentration alone has a low sensitivity for detecting AATD. [9]
See the image below.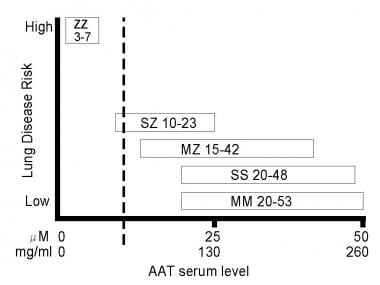 Graph outlines alpha1-antitrypsin levels and risk of lung disease for the 5 most common phenotypes of alpha1-antitrypsin deficiency (AATD). Dashed line at 11 mmol/L (80 mg/mL) represents the threshold level below which emphysema is common.
---
Did this answer your question?
Additional feedback? (Optional)
Thank you for your feedback!