Answer
Answer
Studies to date have not evaluated the role of coronary angiography as a risk predictor. Coronary angiography should not be performed routinely in all vascular patients, but it is generally recommended for those individuals with clinical or noninvasive evidence of coronary artery disease, as determined by dobutamine echocardiography results or Persantine methoxyisobutyl isonitrile testing. Furthermore, indications for coronary artery bypass grafting (CABG) before noncardiac surgery are identical to those established by the ACC/AHA guidelines for CABG, in particular left main disease and critical 3 vessel disease with a reduced ejection fraction (see the following image).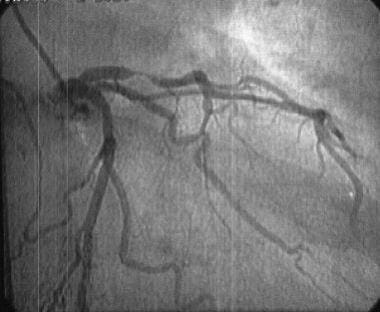 Perioperative cardiac management. Coronary angiogram revealing severe left circumflex and left anterior descending disease.
---
Did this answer your question?
Additional feedback? (Optional)
Thank you for your feedback!