Answer
Answer
Intravenous dipyridamole (Persantine) increases coronary blood flow to the myocardium 2- to 3-fold. Viable myocardial cells take up thallium-201, a radionucleotide tracer, in proportion to blood flow. Hence, delayed thallium redistribution following dipyridamole helps identify areas of ischemia (see image below). The test has a negative predictive value (NPV) of 95-100% for coronary artery disease in patients having vascular surgery; negative results have a likelihood ratio (LR) of 0.12, whereas positive results have an LR of 3.02.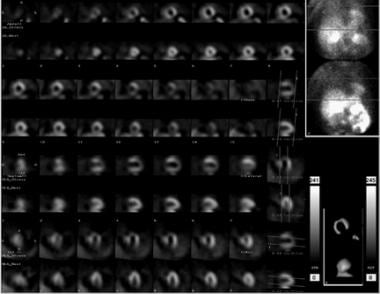 Perioperative cardiac management. The sestamibi perfusion scan illustrates reversible ischemia in the anterior wall of the myocardium, comparing rest and stress images.
Of note, be cautious when performing Persantine thallium scanning in patients with an underlying history of reactive airway disease, including asthma and severe chronic obstructive pulmonary disease (COPD).
---
Did this answer your question?
Additional feedback? (Optional)
Thank you for your feedback!