Answer
Answer
The worldwide elderly population with its associated health concerns is expanding rapidly. Globally, the proportion of individuals older than 80 years currently averages 5%. In the developed world, almost 15% of individuals will be older than 80 years in 2020; the proportion is expected to increase to 25% by 2050. This aging population has associated comorbidities; consequently, clinicians are often asked to evaluate the preoperative risk status of this high-risk population.
See algorithm for preoperative cardiac assessment below.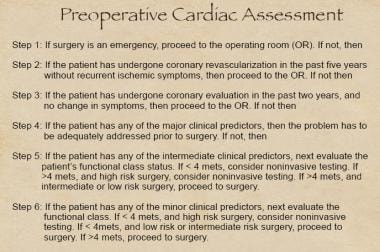 Perioperative cardiac management. Algorithm for preoperative cardiac assessment.
The cardiovascular systems of patients who undergo general anesthesia and noncardiac surgical procedures are subject to multiple stresses and complications. A previously stable patient may decompensate postoperatively, leading to significant postoperative morbidity and mortality. A substantial number of all deaths among patients undergoing noncardiac surgery are caused by cardiovascular complications.
Each year, approximately 30 million individuals in the United States undergo noncardiac surgery. Approximately one third have cardiac disease or major cardiac risk factors. Current estimated rates of serious perioperative cardiac morbidity vary from 1-10%. The incidence of perioperative myocardial infarction (MI) is increased 10- to 50-fold in patients who have had previous coronary events.
Cardiac risk stratification allows clinicians to group patients into various risk categories; therefore, low-risk patients can be spared further testing, whereas intermediate- and high-risk patients should undergo preoperative investigations and treatment to reduce overall cardiac perioperative morbidity and mortality. [3]
---
Did this answer your question?
Additional feedback? (Optional)
Thank you for your feedback!