Answer
As its name suggests, the histopathology of glioblastoma multiforme is extremely variable. Glioblastoma multiformes are composed of poorly differentiated, often pleomorphic astrocytic cells with marked nuclear atypia and brisk mitotic activity. Necrosis is an essential diagnostic feature, and prominent microvascular proliferation is common. Macroscopically, glioblastomas are poorly delineated, with peripheral grayish tumor cells, central yellowish necrosis from myelin breakdown, and multiple areas of old and recent hemorrhages. Most glioblastomas of the cerebral hemispheres are clearly intraparenchymal with an epicenter in the white matter, but some extend superficially and contact the leptomeninges and dura. [9, 10, 11, 12, 13, 14, 15]
Despite the short duration of symptoms, these tumors are often surprisingly large at the time of presentation, occupying much of a cerebral lobe. Undoubtedly, glial fibrillary acidic protein (GFAP) remains the most valuable marker for neoplastic astrocytes. Although immunostaining is variable and tends to decrease with progressive dedifferentiation, many cells remain immunopositive for GFAP even in the most aggressive glioblastomas. Vimentin and fibronectin expression are common but less specific. [54]
The regional heterogeneity of glioblastomas is remarkable and makes histopathological diagnosis a serious challenge when it is based solely on stereotactic needle biopsies. Tumor heterogeneity is also likely to play a significant role in explaining the meager success of all treatment modalities, including radiation, chemotherapy, and immunotherapy.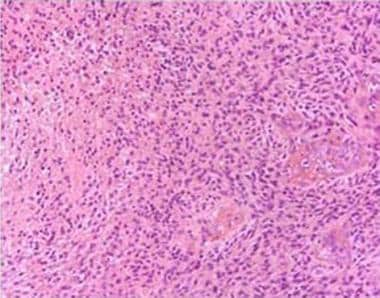 Histopathologic slide demonstrating a glioblastoma multiforme (GBM).
---
Did this answer your question?
Additional feedback? (Optional)
Thank you for your feedback!