Answer
Glioblastoma multiforme (GBM) is by far the most common and most malignant of the glial tumors. Attention has been drawn to this form of brain cancer by the deaths of Senator Ted Kennedy and Senator John McCain from glioblastoma.
Of the estimated 17,000 primary brain tumors diagnosed in the United States each year, approximately 60% are gliomas. Gliomas comprise a heterogeneous group of neoplasms that differ in location within the central nervous system, in age and sex distribution, in growth potential, in extent of invasiveness, in morphological features, in tendency for progression, and in response to treatments.
See images below.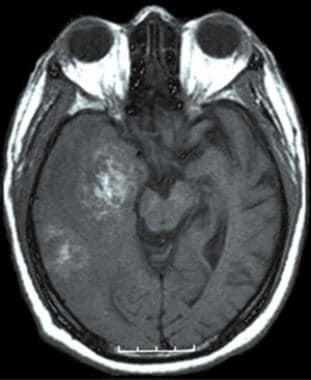 A T1-weighted axial MRI without intravenous contrast. This image demonstrates a hemorrhagic multicentric tumor (glioblastoma multiforme [GBM]) in the right temporal lobe. Effacement of the ventricular system is present on the right, and mild impingement of the right medial temporal lobe can be observed on the midbrain.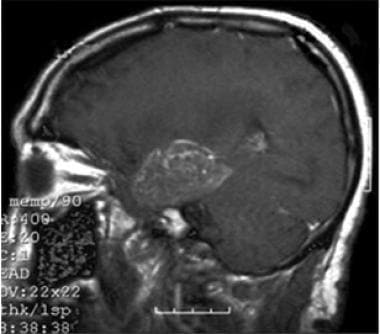 A T1-weighted sagittal MRI with intravenous contrast in a patient with glioblastoma multiforme (GBM).
Composed of a heterogeneous mixture of poorly differentiated neoplastic astrocytes, glioblastomas primarily affect adults, and they are located preferentially in the cerebral hemispheres. Much less commonly, glioblastoma multiforme can affect the brainstem (especially in children) and the spinal cord. These tumors may develop from lower-grade astrocytomas (World Health Organization [WHO] grade II) or anaplastic astrocytomas (WHO grade III), but, more frequently, they manifest de novo, without any evidence of a less malignant precursor lesion. The treatment of glioblastomas is palliative and includes surgery, radiotherapy, and chemotherapy. [27, 28, 29]
---
Did this answer your question?
Additional feedback? (Optional)
Thank you for your feedback!