Answer
Helical or multislice CT has 82-94% sensitivity. In one study, dual-phase helical CT proved more sensitive than single-phase for detection of insulinoma; in addition, image acquisition in the arterial phase proved more helpful than acquisition during the portal-venous phase. [30] See the image below.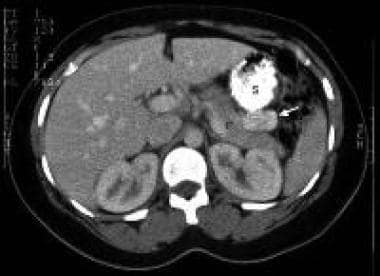 CT scan image with oral and intravenous contrast in a patient with biochemical evidence of insulinoma. The 3-cm contrast-enhancing neoplasm (arrow) is seen in the tail of the pancreas (P) posterior to the stomach (S) (Yeo, 1993).
Zhu et al reported that the addition of whole-pancreas perfusion to biphasic contrast-enhanced CT (CECT) may improve the detection of insulinomas. In their study of 79 consecutive cases, mean blood flow values of both insulinomas and insulinoma-harboring regions were statistically significantly higher (P < 0.01, for both) than those of tumor-free pancreatic parenchyma. The addition of perfusion allowed correct diagnosis of nine of 46 tumors (19.6%) in which biphasic CT was negative or indeterminate. [31]
In a subsequent prospective study, however, Zhu et al reported that volume perfusion CT (VPCT) is significantly more accurate than CECT for insulinoma detection, and 3 Tesla magnetic resonance imaging (3T MRI) with diffusion-weighted imaging (DWI) is better still. Lesions were more conspicuous on MRI than on VPCT, and conspicuity with both was better than with CECT. Tumor-to–pancreatic duct distance was better appreciated on MRI than on VPCT and CECT. [6]
---
Did this answer your question?
Additional feedback? (Optional)
Thank you for your feedback!