Answer
Mature cystic teratomas of the ovaries may be removed by simple cystectomy rather than salpingo-oophorectomy. See the image below.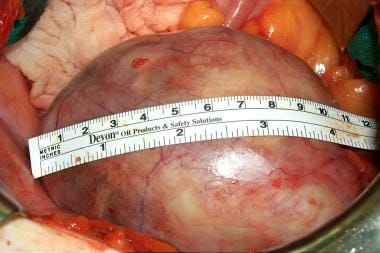 A 12-cm mature cystic teratoma of the ovary prior to excision.
Although malignant degeneration is quite rare, the cyst should be removed in its entirety, and if immature elements are found, the patient should undergo a standard staging procedure.
Guidelines issued by the Royal College of Obstetricians and Gynecologists (RCOG) in the United Kingdom recommend that when surgery is indicated, a laparoscopic approach be generally considered to be the gold standard for the management of all benign ovarian masses. In addition, laparoscopic bilateral salpingo-oophorectomy is recommended for removal of postmenopausal cystic teratomas at low risk of malignancy. [55]
The patient should be counseled appropriately about the risks and benefits of laparoscopy and laparotomy. Ample literature supports laparoscopy as an acceptable alternative approach in resection. Benefits include reductions in postoperative pain, blood loss, hospital stay, and total cost. Risks include prolonged operative time, increased operating room costs, and potential need for a prompt second staging procedure if an unexpected malignancy is revealed.
Some studies have found an increased intraoperative spillage rate with laparoscopy, while others have not. Spillage is associated with increased risk of chemical peritonitis (estimated incidence of 0.2%) and increased risk of adhesion formation. The risks of recurrence (4%), as well as malignant degeneration (0.2-2%), should be discussed. [56, 57, 58, 59, 60]
---
Did this answer your question?
Additional feedback? (Optional)
Thank you for your feedback!