Answer
Mature cystic teratomas of the ovary are often discovered as incidental findings on physical examination, during radiographic studies, or during abdominal surgery performed for other indications. Asymptomatic mature cystic teratomas of the ovaries have been reported at rates of 6-65% in various series. When symptoms are present, they may include abdominal pain, mass or swelling, and abnormal uterine bleeding. Bladder symptoms, gastrointestinal disturbances, and back pain are less frequent. When abdominal pain is present, it usually is constant and ranges from slight to moderate in intensity. Torsion and acute rupture commonly are associated with severe pain. Hormonal production is thought to account for cases of abnormal uterine bleeding, but histologic examination has not provided evidence to support this theory. [19, 4, 3, 36] See the image below.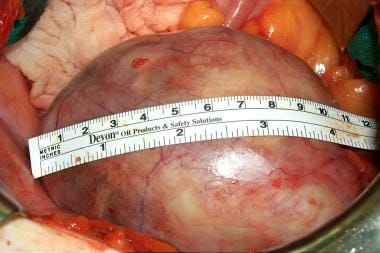 A 12-cm mature cystic teratoma of the ovary prior to excision.
---
Did this answer your question?
Additional feedback? (Optional)
Thank you for your feedback!