Answer
Teratomas are germ cell tumors commonly composed of multiple cell types derived from one or more of the 3 germ layers. Teratomas range from benign, well-differentiated (mature) cystic lesions to those that are solid and malignant (immature). Additionally, teratomas may be monodermal and highly specialized. This article focuses on mature cystic teratomas, commonly referred to as dermoid cysts. See the images below.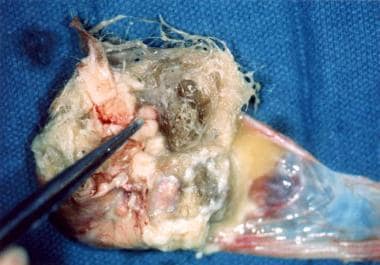 Mature cystic teratoma of the ovary exhibiting multiple tissue types.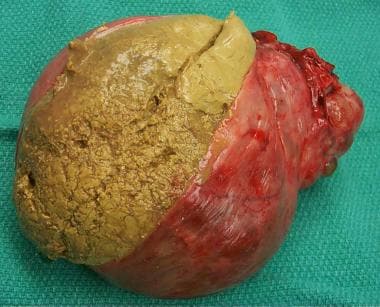 Mature cystic teratoma of the ovary with hair, sebaceous material, and thyroid tissue.
Malignant transformation occurs in 1–3% of mature cystic teratomas (MCTs), usually in postmenopausal women. Transformation to squamous cell carcinoma occurs most commonly (75%), followed by transformation to adenocarcinoma and carcinoid tumors. [1]
Sacrococcygeal teratomas may be diagnosed antenatally during routine ultrasounds, fetal anomaly scans, or when the mother presents with clinical symptoms such as size greater than dates or polyhydramnios. [2] Mature cystic teratomas of the ovary are often discovered as incidental findings on physical examination, during radiographic studies, or during abdominal surgery performed for other indications. Testicular teratomas most often present as a painless scrotal mass, except in the case of torsion. Mediastinal teratomas are often asymptomatic.
The treatment of mature teratomas is largely surgical. Patients should be informed of the risks of surgery and of the various surgical options, as discussed in Surgical Care.
For patient education information, see An Overview of Dermoid Cysts.
---
Did this answer your question?
Additional feedback? (Optional)
Thank you for your feedback!