Answer
Most patients suspected of having pancreatic carcinoma are initially studied with transcutaneous abdominal ultrasonography and/or spiral CT scanning (usually not done initially with dual-phase contrast, thin-cut pancreatic protocols). Patient management thereafter can vary from institution to institution, depending on local expertise, interest, and protocols. (See the image below.)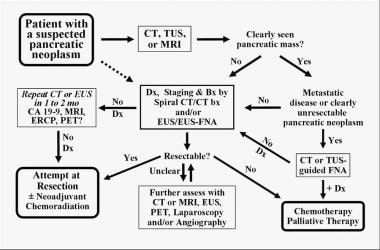 Algorithm for evaluation of a patient with suspected pancreatic cancer. CT scanning for definitive diagnosis and staging must be with thin-cut, multidetector, spiral CT scanning using dual-phase contrast imaging to allow for maximal information. This schema varies among institutions depending on local expertise, research interest, and therapeutic protocols for pancreatic carcinoma.
If patients have obvious hepatic metastatic disease based on initial TUS or CT findings, they undergo a CT- or TUS-guided biopsy of one of the liver metastases and then proceed to palliative therapy.
Patients with a suggested or definite pancreatic mass observed on abdominal CT scanning or TUS or those who are still considered to have pancreatic cancer but do not have an obvious pancreatic mass need to have more definitive imaging studies. This can be done using high-quality, thin-cut, multidetector CT scanning with dual-phase contrast and/or by using other procedures, such as EUS.
In the author's institution, where high-quality EUS and EUS-guided fine-needle aspiration are readily available, EUS plays a central role in the definitive diagnosis and staging of patients with pancreatic carcinoma.
If a pancreatic mass is observed on EUS images, EUS-guided fine-needle aspiration is performed to confirm the disease cytologically. At the same time, the condition is staged using EUS to determine resectability potential. Patients thought to have resectable tumors based on EUS findings proceed directly to operative intervention.
If tumors are deemed unresectable based on EUS findings and if patients have obstructive jaundice, they proceed directly to therapeutic stent placement with ERCP while under the same endoscopic sedation. Most patients then undergo dedicated pancreas protocol multidetector CT scanning to complete preoperative staging if the initial CT scan was not of the highest quality.
MRI, MRCP, and PET scanning are rarely used in the authors' evaluation algorithm unless other procedures are still nondiagnostic in a patient with a high suspicion of pancreatic cancer or if altered gastric anatomy precludes endoscopic ultrasonographic examination.
Patients with unresectable disease are offered chemotherapy for their disease. In institutions without EUS and EUS-guided fine-needle aspiration capabilities, spiral CT scanning with CT-guided pancreatic fine-needle aspiration or biopsy plays the central role in evaluation.
Abdominal TUS can also be used as an initial diagnostic study, especially in the jaundiced patient. However, this approach rarely obviates eventually performing abdominal CT scanning or EUS in patients in whom disease is a strong possibility.
ERCP is also used frequently for evaluating patients with jaundice or patients with possible pancreatic masses based on findings from imaging modalities if EUS is not available.
---
Did this answer your question?
Additional feedback? (Optional)
Thank you for your feedback!