Answer
To date, studies show that EUS is approximately 70-80% accurate for correctly staging pancreatic carcinoma. EUS appears to better assess involvement of the portal vein/superior mesenteric vein.
NCCN guidelines recommend multi-detector computed tomography (MDCT) angiography, using a dual-phase pancreatic protocol, as the preferred modality for dedicated pancreatic imaging. [2] This technique is especially good for assessing major arterial involvement or distant metastases.
EUS is better than CT scanning for detection of abnormal lymph nodes around the pancreas and celiac axis. Furthermore, with the addition of EUS-guided fine-needle aspiration, EUS can help cytologically document metastatic disease in suggestive lymph nodes.
The image below visually demonstrates the stages of pancreatic cancer.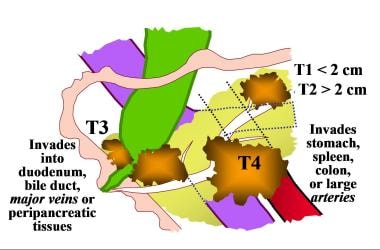 Pancreatic cancer. T staging for pancreatic carcinoma. T1 and T2 stages are confined to the pancreatic parenchyma. T3 lesions invade local structures such as the duodenum, bile duct, and/or major peripancreatic veins, and T4 lesions invade surrounding organs (eg, stomach, colon, liver) or invade major arteries such as the superior mesenteric or celiac arteries.
---
Did this answer your question?
Additional feedback? (Optional)
Thank you for your feedback!