Answer
EUS obviates the physical limitations of TUS by placing a high-frequency, ultrasonographic transducer on an endoscope (see the first image below), which is then positioned in the stomach or duodenum endoscopically to help visualize the head, body, and tail of the pancreas. Unlike CT, the patient requires conscious sedation for this procedure. (Adenocarcinoma of the pancreatic head is seen in the second image below.)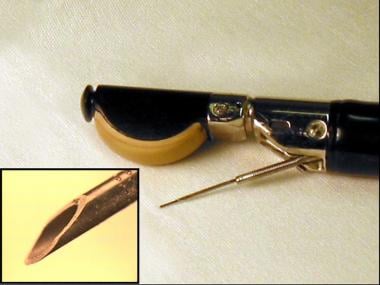 Pancreatic cancer. Tip of linear array echoendoscope (Pentax FG 36UX) with 22-gauge aspiration needle exiting from biopsy channel. Insert shows magnification of aspiration needle tip. Note that the needle exits from the biopsy channel such that it appears continuously in the view of the ultrasonic transducer on the tip of the echoendoscope.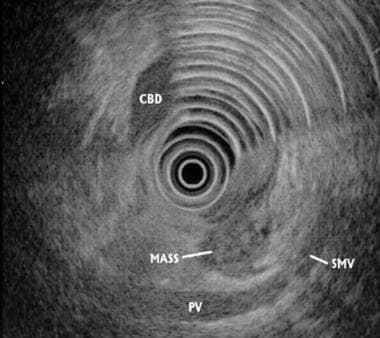 Pancreatic cancer. Endoscopic ultrasound of a 2.2-cm pancreatic adenocarcinoma of the head of the pancreas obstructing the common bile duct (CBD) but not invading the portal vein (PV) or superior mesenteric vein (SMV). Findings from endoscopic ultrasound–guided fine-needle aspiration revealed a moderately to poorly differentiated adenocarcinoma. Abdominal CT findings did not show this mass, and an attempt at endoscopic retrograde cholangiopancreatography at another institution was unsuccessful.
Additionally, because of the proximity of the pancreas to the EUS transducer, high-frequency ultrasonography (7.5-12 MHz) can be used to produce very high-resolution (submillimeter) images. Where expert EUS is available, it has proven to be the most sensitive and specific diagnostic test for pancreatic cancer. A negative endoscopic ultrasonogram is nearly 100% specific at ruling out the presence of a pancreatic neoplasm.
In numerous series, EUS has been found to have detection rates of 99-100% for all pancreatic carcinomas, including those smaller than 3 cm. EUS is as accurate as ERCP or MRCP for assessing the etiology of obstructive jaundice.
An additional significant diagnostic advantage is EUS-guided fine-needle aspiration, which allows for the simultaneous cytologic confirmation of pancreatic carcinoma at the time of EUS diagnosis.
EUS appears to be equivalent to dual-phase, spiral CT scanning for assessing tumor-resectability potential. It is probably superior to CT scanning as a means of assessing the T stage of the tumor, especially when the clinician is looking for portal vein involvement in pancreatic head lesions.
EUS is probably inferior to CT scanning in assessing arterial involvement and distant metastases. [47] EUS and CT scanning are poor at detecting occult nodal involvement.
On the whole, the NCCN guidelines recommend EUS as complementary to CT. However, if no mass is evident in the pancreas on CT protocol imaging, the NCCN recommends EUS before other evaluation options. EUS is also valuable if there is possible involvement of blood vessels or lymph nodes. [2]
Go to Radiologic Diagnosis and Staging of Pancreatic Carcinoma for complete information on this topic.
---
Did this answer your question?
Additional feedback? (Optional)
Thank you for your feedback!