Answer
Because of its ubiquitous availability and its ability to image the whole abdomen and pelvis, abdominal CT scanning continues to be the mainstay of initial diagnostic modalities used for assessing patients suspected to have pancreatic carcinoma. (See the images below.)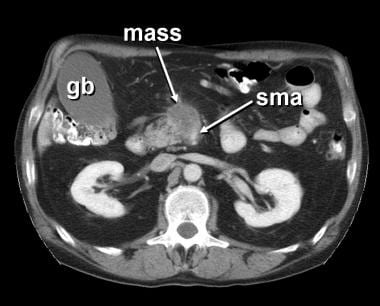 Pancreatic cancer. Computerized tomographic scan showing a pancreatic adenocarcinoma of the pancreatic head. The gallbladder (gb) is distended because of biliary obstruction. The superior mesenteric artery (sma) is surrounded by tumor, making this an unresectable T4 lesion.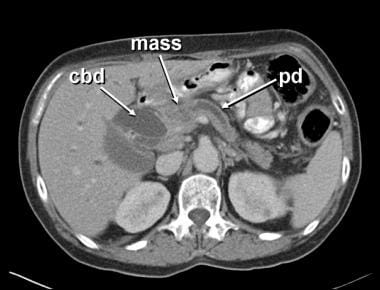 Pancreatic cancer. Abdominal CT scan of a small, vaguely seen, 2-cm pancreatic adenocarcinoma (mass) causing obstruction of both the common bile duct (cbd) and pancreatic duct (pd).
The quality of CT scanners has been rapidly evolving. The speed of image acquisition, 3D imaging, and slices as thin as 2-3 mm have revolutionized the technology.
Newer scanner models, using spiral (ie, helical) CT scanning with multiple detectors and dual or triple-phase contrast enhancement, have significantly improved the sensitivity and specificity of abdominal CT-scan findings in patients with pancreatic carcinoma.
Multidetector CT scanning (MDCT) using a pancreas protocol is at least as accurate as EUS in the overall determination of the resectability of pancreatic carcinoma. In fact, CT scanning may be more accurate than EUS in predicting involvement of the superior mesenteric artery. [47]
National Comprehensive Cancer Network (NCCN) guidelines recommend MDCT angiography as the preferred imaging tool for dedicated pancreatic imaging. Thin (preferably sub-millimeter) axial sections should be acquired using a dual-phase pancreatic protocol, with images obtained in the pancreatic and portal venous phase of contrast enhancement. Coverage may be extended to cover the chest and pelvis for complete staging, depending on institutional preferences. [2]
Other features of CT imaging include the following:
Because of a higher rate of enhancement by the normal pancreas, malignant tumors appear as lower-density lesions

[48]

; these are often associated with obstruction of the pancreatic duct

When lesions are visible, CT scanning can also be used to direct fine-needle aspiration of pancreatic masses

Small tumors can still be missed even with the most advanced CT-scanning techniques.
Go to Radiologic Diagnosis and Staging of Pancreatic Carcinoma for complete information on this topic.
---
Did this answer your question?
Additional feedback? (Optional)
Thank you for your feedback!