Answer
Of all pancreatic cancers, 80% are adenocarcinomas of the ductal epithelium. Only 2% of tumors of the exocrine pancreas are benign. (See Etiology and Histologic Findings.)
Less common histologic appearances of exocrine pancreatic cancers include giant cell carcinoma, adenosquamous carcinoma, microglandular adenocarcinoma, mucinous carcinoma, cystadenocarcinoma, papillary cystic carcinoma, acinar cystadenocarcinoma, and acinar cell cystadenocarcinoma. Very rarely, primary connective tissue cancers of the pancreas can occur. The most common of these is primary pancreatic lymphoma.
An adenocarcinoma of the pancreas is seen below. (See Histologic Findings.)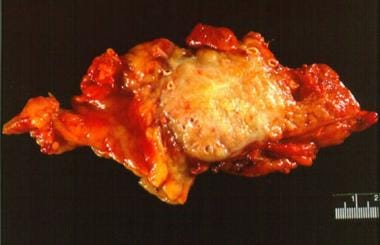 Pancreatic cancer. Gross section of an adenocarcinoma of the pancreas measuring 5 X 6 cm resected from the pancreatic body and tail. Although the tumor was considered to have been fully resected and had not spread to any nodes, the patient died of recurrent cancer within 1 year.
---
Did this answer your question?
Additional feedback? (Optional)
Thank you for your feedback!