Answer
Pancreatic cancer is the tenth most common cancer in men and the ninth most common in women, but it is the fourth leading cause of cancer deaths, being responsible for 8% of all cancer-related deaths. Approximately 75% of all pancreatic carcinomas occur within the head or neck of the pancreas, 15-20% occur in the body of the pancreas, and 5-10% occur in the tail. See the image below.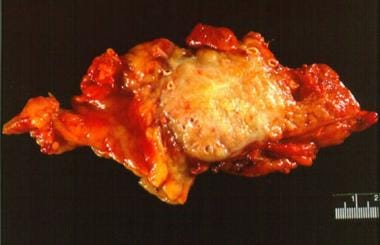 Pancreatic cancer. Gross section of an adenocarcinoma of the pancreas measuring 5 X 6 cm resected from the pancreatic body and tail. Although the tumor was considered to have been fully resected and had not spread to any nodes, the patient died of recurrent cancer within 1 year.
---
Did this answer your question?
Additional feedback? (Optional)
Thank you for your feedback!