Answer
Answer
Distinguishing lentigo maligna from its invasive counterpart on a clinical basis continues to present diagnostic dilemmas, especially in patients who had previous therapeutic interventions such as cryotherapy. It is important to have a low threshold for biopsy of pigmented facial lesions. In a series of 85 excised lesions with a clinical diagnosis of lentigo maligna, more than 50% had invasive lentigo maligna melanoma.
The following conditions should also be considered when evaluating a patient for suspected lentigo maligna and lentigo maligna melanoma:
Common acquired nevi

Dysplastic nevi

Pigmented actinic keratosis

Seborrheic keratosis

Solar lentigo (see the image below)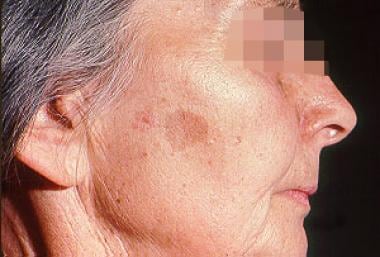 Woman with solar lentigo. Common in sun-exposed skin, solar lentigines are benign lesions that must be distinguished from lentigo maligna melanoma.
---
Did this answer your question?
Additional feedback? (Optional)
Thank you for your feedback!