Answer
Answer
Lentigo maligna is a subtype of melanoma in situ that is characterized by an atypical proliferation of melanocytes within the basal epidermis; lentigo maligna that invades the dermis is termed lentigo maligna melanoma. [1] Lentigo maligna melanoma is most often found on sun-exposed skin in the head and neck of middle-aged and elderly persons (see the image below), and is slightly more common in women. Approximately 10-30% of all cutaneous melanoma arise in this region. [2]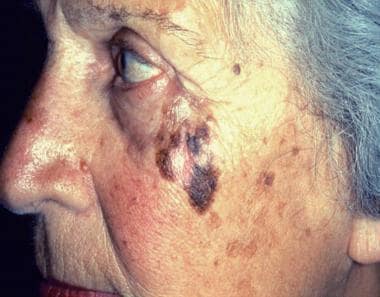 Photograph shows lentigo maligna melanoma on a patient's cheek. Lentigo maligna melanoma most commonly occurs on sun-exposed skin, especially of the face, in elderly persons. It is characterized by a highly irregular border, heterogeneous coloration, and—because of its long radial growth phase—a large diameter. Courtesy of CDC/Carl Washington, MD, Emory University School of Medicine, and Mona Saraiya, MD, MPH.
Lentigo maligna melanoma (LMM) is one of the four main subtypes of melanoma and represents 5-15% of cases. The other types are superficial spreading (70%), nodular (10-15%), and acral lentiginous melanoma (5%). [3]
The incidence of melanoma has increased steadily over the past 3 decades, and melanoma in situ has constituted a disproportionately high percentage of the rise in cases. [4] It is estimated that in 2019, 96,480 cases of invasive skin melanoma and 95,830 cases of melanoma in situ will be newly diagnosed. [5]
See Mole or Melanoma? Test Yourself With These Suspicious Lesions, a Critical Images slideshow, to help identify various skin lesions.
Sir John Hutchinson first described lentigo maligna in 1890; the disease continues to be called Hutchinson melanotic freckle on occasion. The Hutchinson melanotic freckle was originally thought to be infectious because of its slow yet progressive growth. The lesion has subsequently been termed malignant lentigo of elderly people, junctional nevus, and melanoma in situ. Most authors currently refer to it as lentigo maligna when it is confined to the epidermis and lentigo maligna melanoma when it violates the dermis.
For more information, see the following
---
Did this answer your question?
Additional feedback? (Optional)
Thank you for your feedback!