Answer
Unilateral or bilateral nonpainful white lesions can be seen on the margins, dorsal or ventral surfaces of the tongue, or on buccal mucosa, as shown in the image below. Oral hairy leukoplakia (OHL) lesions may vary in appearance from smooth, flat, small lesions to irregular "hairy" or "feathery" lesions with prominent folds or projections.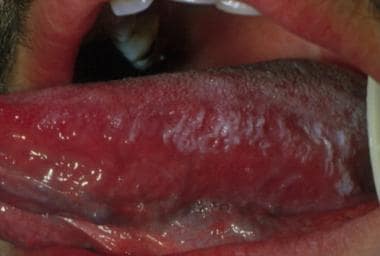 Lateral tongue in oral hairy leukoplakia.
Lesions may be either continuous or discontinuous along both tongue borders, and they are often not bilaterally symmetric. Lesions are adherent, and only the most superficial layers can be removed by scraping. There is no associated erythema or edema of the surrounding tissue. Hairy leukoplakia may also involve dorsal and ventral tongue surfaces, the buccal mucosa, or the gingiva. On the ventral tongue, buccal mucosa, or gingiva, the lesion may be flat and smooth, lacking the characteristic "hairy" appearance. [2]
See the image below.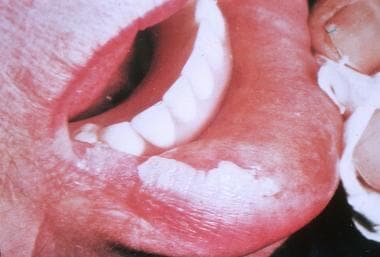 Oral leukoplakia.
---
Did this answer your question?
Additional feedback? (Optional)
Thank you for your feedback!