Answer
Adjuvant and preoperative radiation therapy has been used to reduce tumors in an effort to make them resectable. This therapy has been performed with and without concurrent chemotherapy as a radiation sensitizer.
The value of adjuvant radiotherapy has been to improve local control, with variable effect on overall survival after complete resection. Several series have shown an increase in median survival duration with postoperative radiation, from 8 months with surgery alone to more than 19 months.
Special radiation techniques have been used, such as intraluminal brachytherapy and external-beam therapy during surgery (ie, intraoperative radiotherapy [IORT]). See the image below for treatment planning technique.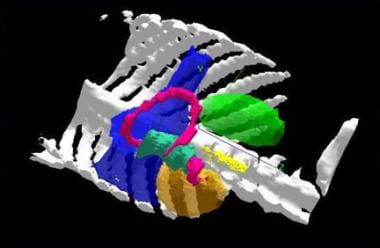 Three-dimensional treatment planning uses CT scan slices to reconstruct the patient as a volume. Shown here is the display for planning external-beam radiotherapy to the cholangiocarcinoma (green structure). A biliary catheter (red tube) runs through the tumor volume and was used to deliver brachytherapy, which was given in addition to external-beam radiotherapy. Such technology has assisted greatly in the delivery of high doses to the tumor, while sparing vital normal structures, such as the kidney and spinal cord.
---
Did this answer your question?
Additional feedback? (Optional)
Thank you for your feedback!